NEWSROOM
Sens.ai To Unveil Groundbreaking Neurofeedback and Brain-Training Technology at the Health Optimisation Summit
Sens.ai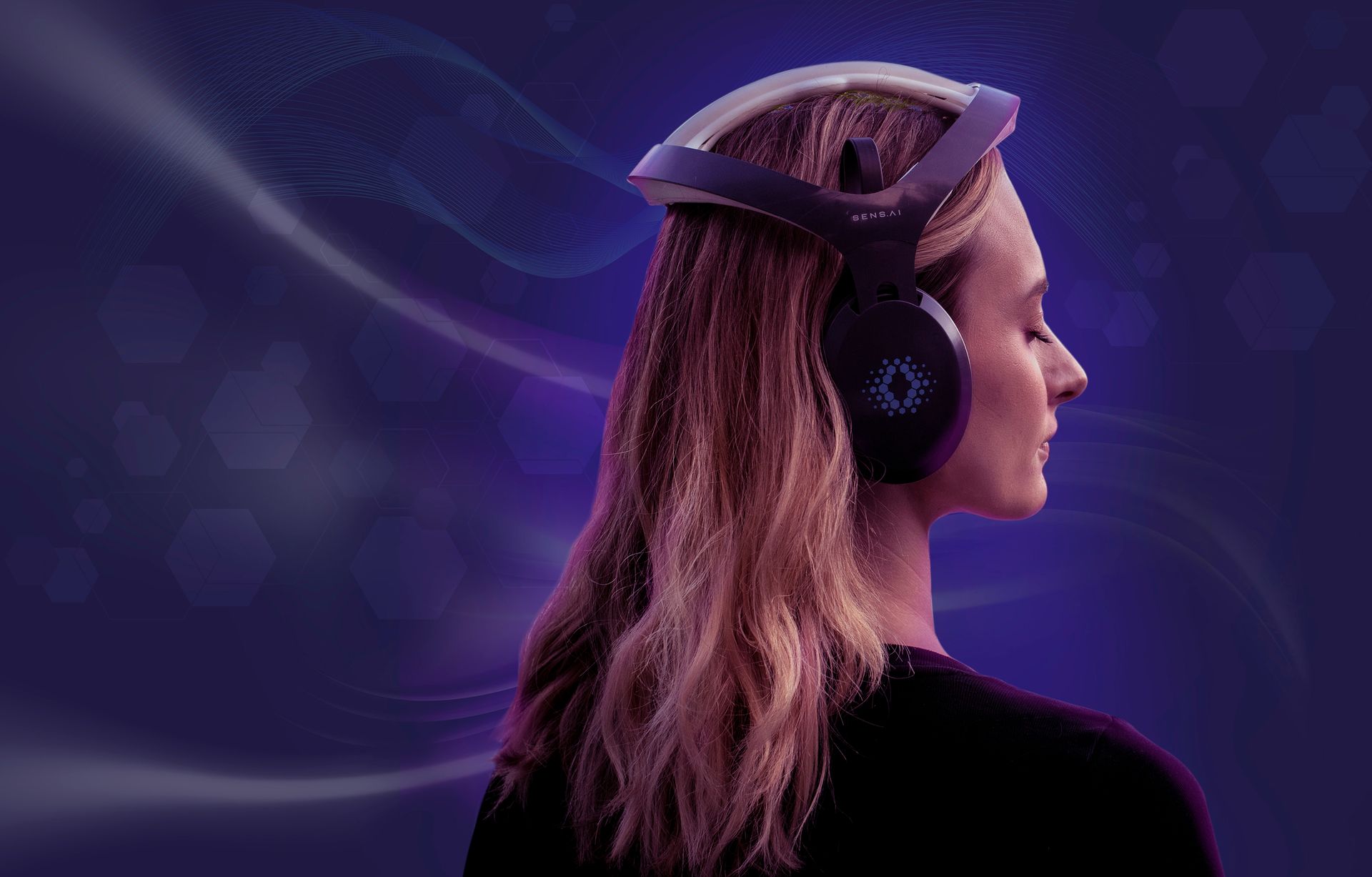 Guests at the World-Class Event will Experience Personalized Brain-Training this June
[WHISTLER, BRITISH COLUMBIA, June 6, 2023] - Sens.ai, a pioneering company specializing in neurofeedback and personalized brain-training solutions, is proud to announce its role as the VIP Room Sponsor at the highly anticipated Health Optimisation Summit, taking place on June 17-18, 2023 in London, UK. The event is known for bringing together leading global experts and innovators in the field of health and wellness, using all the best knowledge, data and people in this space, globally. This setting will provide an exceptional platform for Sens.ai to showcase its cutting-edge technologies and advancements in brain optimization.
As the VIP Room Sponsor, Sens.ai will create an exclusive and immersive environment for distinguished guests. Attendees will have the opportunity to experience Sens.ai's revolutionary neurofeedback system for the first time: Sens.ai headsets, GeniusPulse Controllers™ and adaptive Programs will be available to trial. Within this unique setting, attendees will have the opportunity to explore how personalized brain training, facilitated by Sens.ai's Boost, Train, and Assess modes, can unlock heightened cognitive capabilities, promote emotional well-being, and optimize overall performance by achieving optimal brainwave states.
[Paola Telfer], CEO and Founder of Sens.ai, expressed her enthusiasm about the upcoming event: "At Sens.ai, we believe that harnessing the power of the brain can lead to profound transformations. We are excited to share our innovative solutions with the attendees of the Health Optimisation Summit, and soon, with consumers at scale. We know people are passionate about optimizing their health and unlocking their full potential, and our revolutionary technology makes this more achievable than ever before."
Dr. Mark Atkinson, a renowned medical doctor, Human Potential Teacher, and Founder of Human Potential Academy, who will be speaking at the Summit, also commented on Sens.ai's participation: "I have been closely following the work of Sens.ai, and when they invited me to join the team as Sens.ai's Head of Human Potential, it was a big yes from me. Their enhanced neurofeedback system is going to provide millions of people with a way to train their brain and unlock their potential from home. I am delighted to see them as the VIP Room Sponsor at the Health Optimisation Summit, and for this global community to experience the power of Sens.ai firsthand."
Guests attending the Health Optimisation Summit are invited to meet with Paola Telfer and Dr. Mark Atkinson to learn more about Sens.ai's breakthrough neurofeedback systems and explore the personalized journey to peak performance. This exclusive opportunity will allow journalists to gain insights directly from the experts shaping the future of personalized brain training.
To schedule a time to meet Paola Telfer, Dr. Mark Atkinson, COO Geoff Telfer or to experience Sens.ai, please contact:

Sens.ai
pr@sens.ai
About Sens.ai:
To feel their best and live their best life, people need to train their brain and control their state. Sens.ai provides the technology and training that people need to make it happen, faster. Sens.ai developed its incredible system by collaborating with top neuro-clinicians, neuroscientists, and researchers with extensive expertise. The system combines proprietary, cutting-edge hardware and software to drive accelerated, data-driven neurofeedback and training. It integrates into your daily routine, allowing for measurable results.
Sens.ai's enhanced neurofeedback system will be available to consumers worldwide, with a seamless user experience and science-based personalization - unlocking a brain that's more focused, calm & productive. Visit Sens.ai to learn more.